To know what it takes to deal with global warming and climate change, the science must be accurately understood. For that the issues must be looked at from the big picture perspective. Global climate change is the biggest issue for humanity ever and it involves the entire living Earth. The full global climate change picture is as big a it gets.
Our reductionist highly specialist science tends to miss the big picture, and on global climate change this leads to huge underestimates of the real world impacts on human populations and the huge risks we are running.
This is most complete chart of the big picture published by the Japanese Environment Department back in 1990.
It shows how environmental degradations and socio-economic deprivations are interconnected, with global warming right in the middle of it all.

The troubles start with perverse economics and end with a crisis for the survival humanity. We are at that crisis survival point today.
UNEP's 2007 fourth Global Environmental Outlook (GEO 4). Concludes only a switch to a different economic model of sustainability can prevent global catastrophe.
UN Data. Site for accessing UN environmental social and economic data
Columbia University (US) Earth Institute

annual state of the planet conference.
CEISIN world data center, interactive maps.
CIESEN Maps of climate effects at higher climate sensitivity than 3C are more realsitic.
The ecological or environmental footprint

tool is designed for communities to easily get a readout on their sustainability.
Worldwatch Institute

(US) annual theme based State of the World Report. Climate change was 2009 theme.
Has regular theme reports and vital signs for state of the planet data easily accessed understood and updated annually.
WWF Living Planet Report

covers all aspects of global sustainability applying ecological footprint studies with graphs and maps.
World Resources Institute (US)

. Extensive ongoing data sets, studies and reports on all aspects of sustainability
Earth Policy Institute

(US) Lester Brown- distinguished economist and agronomist. Focus Eco-indicators of sustainability. Plan B 4 is by far the best plan for the planet and climate change.
Myriad State of the World Infographics.
Excellent useful quick look tool and atlas.
Did the graphics for Penguin State of the World
Global Education Project
Comprehensive with maps and graphics. Best real big picture quick study
World Mapper

. Unique growing library of maps showing global comparisons of sustainability indicators at a glance.
National Geographic Earth Report
2009 video. Can be downloaded from the net.
Global climate change: the- great multiplier
Take a quick look at this page to get a sense of our how multiple on going global environmental degradations and population socio economic deprivations are all linked and all increased by global warming and climate change - compounding the damage from each getting worse alone. Also consider these effects are compounded over time.
This site provides the resources for appreciating all the interconnected aspects of the big global climate picture.
World Revolution.

High quality site calling for a global grass roots socio-economic revolution. .
Global Issues. Excellent site. Covers all issues with concise text and updates.
Limits to Growth

Meadows

,

Meadows, Randers 1972 for the Club of Rome
The idea we were headed for collapse by staying with unsustainable economic growth and that we had to and could switch to sustainability started with the seminal publication of Limits to Growth. This study used computer modeling to integrate four big big picture trends. The projections have proved right so far even though global climate change was not included. Now global climate change is impacting on top these other unsutainable continuing trends.
Facing the Future

is a (US based) education curriculum resource.The big climate change picture is very big on time, because global warming climate change sea level rise and ocean acidification will all last for thousands of years. We are changing the planet for all future generations. That's why we have a page for the future. If we don't transform our education nothing will change and there will be no future.
People and Planet

.A top site for getting the big picture
The Sustainability Institute

A spin off from Limits to Growth founded by Donella Meadows.

Our planet Ourselves

PPt. presentation is the best.
(US)

Carnegie Dept of Global Ecology

publishes climate change research from the widest range of aspects.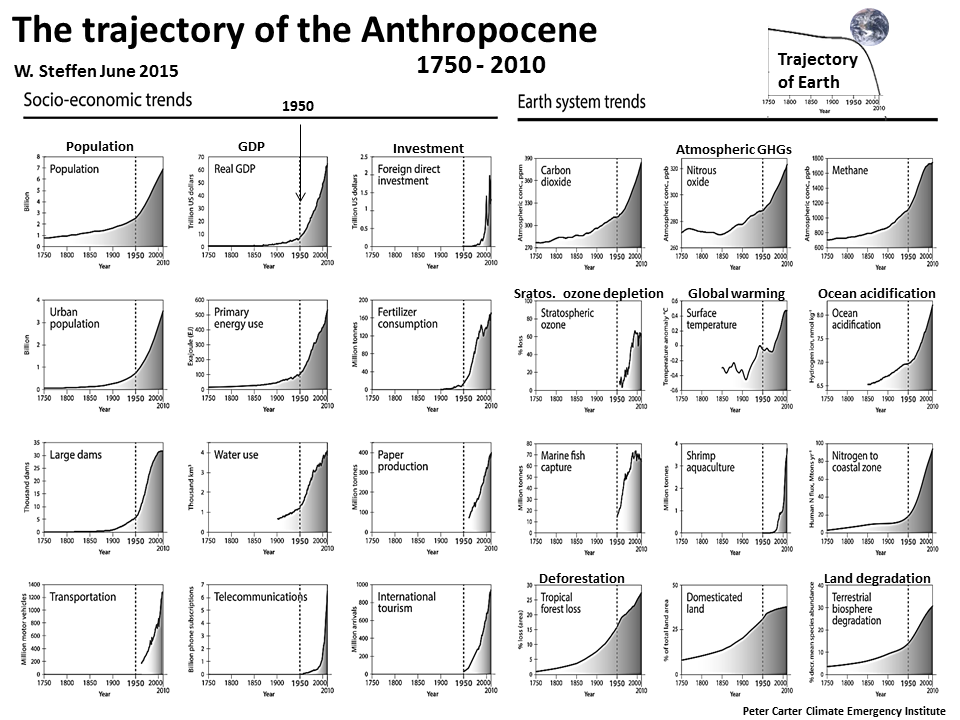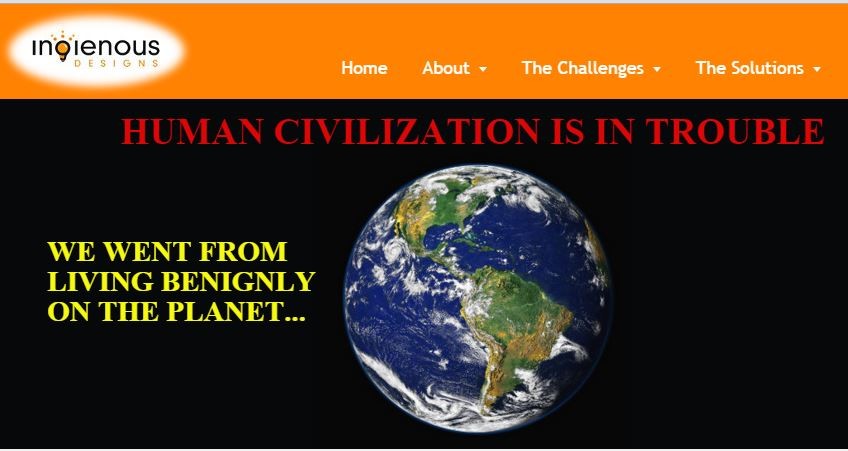 The above was updated in 2015 to 2012 now named The trajectory of the Anthropocene: The Great Acceleration. The accelerating damages continue with the exception of stratospheric ozone depletion that has stayed the same.